12 Jesus Loves You Signs (Say it loudly! - Click here)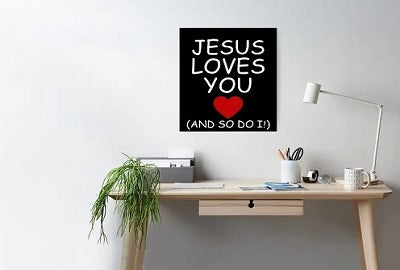 Jesus Loves You Signs
The love that Jesus has for you is displayed all around. The symbol of the cross, nature, hymns, and scripture all speak about His everlasting love.
Let's take a look at some signs that may add a nice touch to your home, office, or church while reflecting the love of Christ.
Here are some ideas below for Jesus Loves You Signs
1. Jesus Loves You Metal Wall Art by CountrysideMetalwork
It's very relaxing to sit outdoors on the porch and admire nature. The birds sucking nectar from the flowers in the garden, the mountains bowing gracefully as they embrace the blue sea, and the plants dancing in the wind all point to a loving Creator.
This beautiful and rustic metal sign will help to tie your porch in with nature while sharing the message of Jesus' love.
2. Jesus Loves You Metal Print by Jesus Lab
A great friend of mine liked to ask her young son, "How much do you love me?" He usually responded by saying the largest number he could think of. He had billions and trillions of love for her.
It's the same way with God, His compassion for us cannot be measured. This metal print is a constant testimony to the love of God.
The silhouette, warm nature scene, and inscription will tell anyone who looks at it, "Jesus loves you with an everlasting love".
3. Jesus Loves You Acrylic Art by Eyes_of_CC
If you ever get to a point where you start to doubt Jesus' love for you all you need to do is look at the sky. The psalmist says that, "The heavens declare the glory of God; the skies proclaim the work of his hands".
This piece is great to display where you'll see it often. The blue background will remind you about the heavens and all that God created.
The cross will be a constant whisper saying that despite your doubts you are a part of the Creator's handy work.
He loves you so much that He left heaven, came to earth, and died on a cross to show how much He cares for you.
4. Jesus Loves You Framed Print by sofiasalinas
If I should sit with the children's choir I'll blend right in because of my height. As a matter of fact some of the children are always taller than I am.
I've had to endure jokes and nicknames because I'm usually one of the shortest persons in a room. But being the shortest doesn't mean I'm unloved.
Maybe you know someone who's going through a rough patch. It takes a lot of self confidence and support for some individuals to accept who they are.
With this Jesus loves you framed print you may help others to believe that they are fearfully and wonderfully made.
As a life coach, exercise partner, counselor, motivational speaker, or pastor you may use this piece to help others develop confidence in who they are.
5. Bible Verse Print by BeguimaStudio
This piece is great for adding a fun and fresh look to a child's room, nursery, classroom, or your children's ministry area. It's also an excellent choice if you are looking for a gift that will have a lasting impact on a special child in your life.
6. Jesus Loves You Canvas Wall Art by 303Studios
Have you ever felt like you needed a sign to give you direction or to confirm that you are on the right path? I've felt this way more than once. Gideon asked God for signs to confirm his doubts and the disciples asked Jesus for signs of His second coming.
Signs are very important as they are able to help us dispel doubt or keep us on the right path.
With this huge motivational Christian wall art you are able to provide each person who enters your home with a beautiful signal.
It's a canvas that says you are a follower of God. It will help to reaffirm that your guests are loved by an amazing Savior.
7. Floral Jesus Canvas by Top Canvas
This floral themed wall canvas will add a nice touch of nature and color to any decor while displaying a powerful message. It will be a nice addition to a living room or bedroom.
The cheerful colors will lift any mood and the simple message will touch any heart.
8. Red Heart Poster by JoDesignLab
If you are looking to say I love you in a special way then this poster will definitely help you. Get it for a friend, family member, or that someone you hold near to your heart.
They will have an amazing piece of wall art that constantly expresses your affection and Jesus' love.
9. Heart and Cross Wall Sticker by Sticker Studio
I enjoy singing and listening to, "Thank you for the cross Lord". It's a beautiful song that speaks about sacrifice, grace, and the tremendous love Jesus has for you and me.
This decal will liven up any wall while adding a powerful message to your decor. The cross, heart, and flowing stencil shares the powerful message of how much you are loved.
10. Jesus Love You Wooden Sign by SLobyy
I like when wooden items are allowed to show their true beauty. There is something very sensational about admiring the grain of the wood as it creates patterns.
This love you wooden sign has an amazing inscription.
Additionally it was dressed in a way that allows the natural grain of the wood to shine through while delicately accentuating the white stenciled letters.
11. Jesus Loves You Wall Decal by Scripture Wall Art
If you want to add a minimalist touch to your wall while getting a powerful message across to others then this sticker will do the trick.
It will work well with almost any color scheme or decor theme and will attract the attention of your guest.
12. Motivational Framed Wood Sign by SaltedWordsCompany
I don't know about you, but I occasionally speak to myself. Unlike what some people think, this is not a sign of insanity. Speaking to myself allows me to think out loud and is a great tool for affirmation.
Sometimes I have a nice little talk, other times I repeat a quote or a line from a song. It's amazing how much one phrase has the ability to change the perspective of an entire day.
You can change the perspective of your entire day or your whole life by repeating the phrase found on this motivational framed wood sign.
You may place it on your dressing table to set the tone for your morning or you may display it in your office.
Final Though
I hope you enjoy this collection of wall art ideas. They will brighten your walls, add a nice touch to your decor and will definitely say, "Jesus loves you".