14 Jesus Teddy Bear Gifts on Blankets, Tshirts, Mugs and More.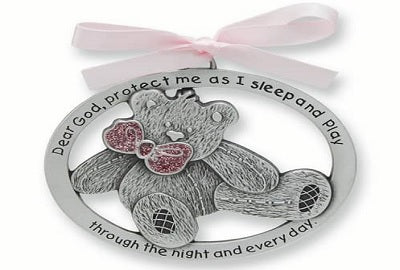 Jesus Teddy Bear
President Theodore Roosevelt refused after his friend tied the bear to a tree and offered the president to shoot it. Although the president enjoyed hunting, he would not shoot an animal tethered to a tree.
The story went viral, resulting in a cartoon, the 1902 equivalent of a meme. It was a huge hit, and it even spawned a toy. Teddy Bear is a stuffed animal.
Teddy bears have been the most popular gift for over a century.
Everyone like baby bears because they are cuddly and fuzzy. As a result, it's no surprise that teddy bears are popular as gifts.
Here are some ideas for Christian themed Jesus Teddy Bear Gifts!
1. Personalized Teddy Bear by Personalization Mall
The popularity of personalized gifts is down to several factors. It allows people to get something special for someone else that is meaningful. It can also be a great way to show someone how much you care or celebrate an occasion with a loved one.
I love getting personalized gifts because it shows I put extra thought into the present. Because its customizable this is probably one of my favorite Christian-themed Jesus teddy bear here :)
2. Teddy Bear Crib Tie by Wallmart
Dear God, protect me as I sleep and pray.
My youngest child did not sleep well. She didn't get her first night's sleep until she was four years old. She just learned not to wake us up when she started sleeping through the night, and she would go up and play quietly in her room.
To be honest, I have no idea how old she was when she first began sleeping through the night.
I would pray over her crib at night, praying that God would help her sleep.
God, we come before you today with a prayer request on behalf of our babies — the babies who are suffering and can't sleep at night. On parents who have exhausted all other options and are at a loss for what to do.
For parents who don't know what to do when their newborns wake up every hour. For parents who haven't had any sleep-in weeks and can barely keep it together.
Give your friends this crib tie and tell them you're hoping their child will sleep through the night.
3. Blanket by Dicksons
Here's another suggestion for parents who have trouble getting their babies to sleep through the night. Along with the blanket, you can send a handwritten prayer. If you have a friend dealing with a sleepless baby, please help them. Assist them in realizing that they are not alone.
Here is a prayer:
Dear God, thank you for bringing the sweet baby into our lives. We know that You have a plan for her, and we are committed to bringing her up in the best way for her.
We know that it's been a challenge getting her to sleep through the night, but we are grateful for the opportunities to parent her together. We will continue to do our best for her, and we ask that You help us to find a solution.
I think having this Jesus Teddy Bear on a blanket is a unique gift to give someone :)
4. Magnet by Gift Shops
The best thing about magnets is that they are fun to play with for kids of all ages. Magnets make for fun play materials, whether you have a toddler who enjoys sticking things to the fridge or a preschooler who enjoys playing with magnetic sorting toys.
I ran a daycare out of my home while my children were babies so that I could be at home with them. The use of magnets on the refrigerator was a common choice.
Children can practice fine motor skills by putting an interest on and off the fridge.
5. Figurine by Precious Moments
When I was little, my grandmother collected Precious Moments figurines. I loved to look at them. She had one that represented each of her grandchildren. They are named well because they are precious.
This is a great way to start a tradition with your grandchildren!
6. Christmas Ornament by Catholic Supply
Adoption brought two of my children into our household. They were 10 and 13 years old. On our first Christmas, my children gathered to get me a Christmas ornament with four Teddy Bears and their names etched. All four of my children, both biological and adopted.
Every year, we put it on our Christmas tree. It's a unique keepsake that also serves as a reminder of the joy that our adoption has brought our family.
Baby Christmas ornaments are a fantastic way to mark your adoption and your child's upcoming birthdays, holidays, and other significant occasions.
If your loved ones have grown their family through adoption or birth, this is a beautiful time to celebrate.
7. Mug by Zazzle
Every Sunday, we have brunch with friends. One of our friends has a little girl, and I always leave out a special cup just for her. Kids love to have their mug!
At Christmas, I left out a mug that I had as a little girl. A Teddy Bear with a Christmas hat!
If you have friends over for coffee, and they have a child, get their child a special cup like this one, so they know they are welcome and wanted.
8. Engraved Christening Mug by Gilsonen Graving
It's not just about the gift when someone you care about receives a personalized gift. It all comes down to how you see the person you're gifting and how you want them to feel. Maybe you'd like them to feel loved. You want them to know how special they are.
This mug is one of a kind. It reminds the parents' pledge to raise their kids to love and follow Jesus Christ when they stood before God.
We did a baby dedication with my children. On the other hand, my nieces were part of a Christianization process.
It's challenging to select the appropriate present for these occasions because it has to be something more unique than the baby shower gift you brought. This cup is a fantastic choice.
9. Coin by Ranger Coin
The coin is regarded as a lucky charm in many cultures. Did you know that finding a penny in your pocket is considered lucky?
If you're looking for a present unique idea, consider leaving this gift in your friend's pocket with a note. They'll discover it when they least expect it.
10. Pewter Baby Cup by Silver And Pewter Gifts
Things passed down from generation to generation are my favorite things in my house. My great-grandmother's pocket mirror is in my possession.
Give an heirloom-quality, customized pewter baby cup as a once-in-a-lifetime gift. After the baby's first cup, you can pass it on to the next generation, passing on a living tradition rather than a disposable item.
Not just the arrival of your new addition, but your child's entire life should be celebrated.
I have a photo of my youngest daughter drinking for the first time from a cup. It's one of my favorite photos.
11. Prayer Bear by Seeds of Light Studio
Teach your child to pray. This is the greatest lesson you will ever teach your child.
Children are natural believers. They want to know why they go to church and what they can do to please God. Children learn best when they are actively involved in the learning process.
In addition to giving your child the opportunity to learn about God at an early age, praying with your child provides an essential opportunity for you to build a relationship with the Lord.
As you share your thoughts and feelings with God, you'll create a deeper bond with Him.
This bear is an excellent tool for teaching children to pray. I love this Christian themed Jesus Teddy Bear, it has so many uses and its so cute!
12. Personalized Braver Message Teddy by Lily Joes Creations
Here is a second option for teaching your children to pray. As you are tucking your little one into bed, you can read the words on this stuffy and talk about the power of prayer. Then you can pray with your child. 
While not exactly a teddy bear, it is a stuffed animal with very powerful scripture from the Bible and could be substituted as a Jesus Teddy Bear. 
13. Personalized Shower Favor by Mtc Gifts
Customized presents are a terrific way to demonstrate how much you care about someone. You can thank your guests for coming to your baby shower and celebrating the birth of the newest member of your family with this personalized shower present.
14. Baby One Piece Shirt by ALV Gifts
My favorite baby thing is a onesie. I'm completely enamoured with them! This sweet Onesie features a Teddy Bear with the phrase "Jesus makes it all better."
The message is geared toward the mother rather than the child. As she cares for her new baby, the new mom will be reminded of this message when she is struggling.
This is a cute onesie with a Jesus teddy bear on it :)
 Conclusion:
Teddy bears are the world's most popular teddy animals, with over 100 million sales each year. Plush toys are ideal for cuddling at home or giving as gifts to friends and family.
This toy has been in existence for almost a century. And it will continue to be cherished for many more years.