12 Christian Jewelry Boxes (Personalized with Scripture - Click Here)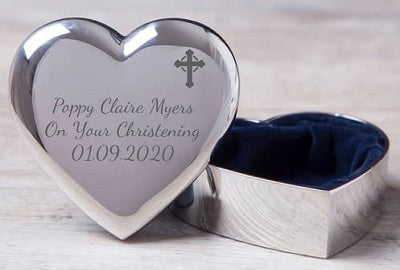 Christian Jewelry Boxes
There are numerous advantages to having specific boxes. There's the obvious jewelry box, but there are a variety of other reasons to have a unique box. Memories, cherished artefacts, cards, and jewelry can all be kept.
You can express your affection for someone in a variety of ways. Giving a special box is a lovely way to express your love. Here are some great Christian Jewelry Boxes for you.
1. Wood Keepsake Box by Natural Stone Gifts
"Now faith is the substance of things hoped for, the evidence of things not seen"
In our Bible study, we just concluded the book of Hebrews. When we arrived at this verse, two of us stated that it was our favorite verse.
I really appreciate how this box fits together like a puzzle. This is a wonderful memento box, and it's a wonderful way to tell your loved ones that they are appreciated.
If you have a teenage kid who needs a place to keep his school rings and wallet, this is the perfect solution.

2. Wood and Metal Decorative Box by Retroove Greece
I went to my parents' flat to clean up after my mother died. There were so many cards with wonderful messages, but Dad didn't want them all around his apartment since it was too much.
We got Dad a beautiful box to store all the cards in. That way, when he was ready, he could read all the lovely messages about mom.
We accumulate many memories throughout our life. Some are joyful, while others are depressed. We'll need somewhere to store these memories and this Christian jewelry box looks like a good way to do that. 

3. Song of Solomon 3:4 by Country Road Engraving
I have found the one whom my soul loves
If you are getting married and want a gift for your bride this is a great option!
Tell your wife how much you adore her. Although it appears to be self-evident, we tend to overlook it. You can do it in a variety of ways, including through your actions, words, and spending time with her.
Giving your wife jewelry is a very precious gift. You can express your love for her by giving her jewels in this beautiful jewelry box. This poetry is one of a kind. Your wife is hoping to hear that you adore her.
This magnificent box, with this wonderful verse, is the ideal way to express your love.
4. Custom Bible Verse Box by You Can Make It Personal
In a few months, my daughter will be attending university. I plan to write letters to my kid and place them in a box with her. She'll be able to open them up at school.
She will open a letter from me once a week on Sunday and read a Bible verse and a remark of encouragement. This fantastic Christian jewelry box is ideal for storing letters.
This is a fantastic idea if you have a loved one who will be away from you for an extended period.
I love this wooden Christian gift! 
5. Holy Land Box by Christian Wooden Gifts
Once a land of myth, legend, and biblical intrigue, today the Israelites call it home. Today, more than two million people live in Israel, making it the world's most densely populated country. But the history of the Holy Land goes back much further than the modern state of Israel.
The Old Testament is the foundation of the start of the nation of Israel. For thousands of years, people have dreamed of visiting the Holy Land, a small region in the Middle East that includes Israel, the West Bank, and Gaza.
As a history bug I love the stories of this land. During the 14th century, the Crusades brought Westerners to the Holy Land.
Today, people from all over the world visit the region to see its ancient cities, archaeological sites, and scenic landscapes.
But the Holy Land isn't just about history—it's a place that continues to reveal secrets about the past and surprise visitors with its present-day relevance.
For those of us who will probably never get to visit this amazing land, we can still have a piece of it.
This box is made from wood from the Holy Land.  If you have a loved one who loves Israel this is the perfect gift for them.
6. Watch Case Personalized by The House of Gifts
You may believe that no one wears a watch nowadays. This is not the case, however. Watches are worn by businesspeople since staring at your phone is unprofessional and makes you look like a teenager.
This is a terrific gift option for your spouse if he wears watches. You might express your gratitude and desire for him to appear professional by doing so.
This would be a fantastic anniversary present for your husband.
7. Personalized Jewelry Box For Little Girls by KHLDESIGNSANDCO
My grandma gave me a small jewelry box when I was a little girl. It was one of my favorites, and I still have it. I used to keep jewelry, cherished memories, and letters from friends in it when I was younger. It served as a haven for me to store valuables.
Because this is a personalized item, you can include a Bible passage that you want your little girl to remember.
Personalized presents are my favorite since they demonstrate that you put thought into them. I love how this Christian jewelry box is personalized! it an extra special gift :)
8. God Child Personalized box by NIDS
I adore my nieces and want them to know how important they are to me.
Do you have a godchild or a Niece whom you adore and want to express your gratitude to?
Write her a message or tell her you adore her in person. Make it clear to her that you care about her and are thinking about her.
Don't be frightened to express your love for her. It will make her feel loved and welcomed, and she will appreciate it.
This personalized Christian jewelry box is a wonderful way to show them you care but adding a letter inside telling them how much you love them is even better.

9. Last Supper Box by Christian Wooden Gifts
I have a great concept that you can do with your family or in Sunday School courses.
At Christmas, have your children or Sunday school students write letters to God. All of the letters can be sealed and placed in this unique box. Then, on Easter, you can unwrap them.
The letters can be read by your children or pupils to remind them of the pledge they made to God just a few months ago.
We all set new year resolutions in the new year, and April is a wonderful time to check in on those resolutions. The most important resolutions for our children to keep track of are spiritual ones.
10. Custom Handmade Wooden Puzzle Box by ButterwoodStudios
I was in high school when I first saw a puzzle box. I thought it was fantastic. You have to complete the riddle in order to obtain something out of the box.
This is a fantastic suggestion for a young person in your life who needs a particular spot to store their belongings.
11. Wood Box Personalized Prayer Box by Phishka
You've heard it a hundred times: say your prayers and read your Bible. But if your child doesn't have a quiet space where they can reflect on their day, they will struggle with this part of their life.
Sit down with your child and show them a special notebook where they can write down prays and leave notes for God. The notebook doesn't have to be fancy—a spiral-bound notebook with lined paper will work just fine.
Then they can store their message to God in this wonderful Christian jewelry box. Children often struggle to express themselves. They might stumble over their words or get tongue-tied when they're trying to share their thoughts and feelings.
The best way to help your child learn how to express themselves is to give them a platform where they can share their thoughts and feelings without fear of being judged.
You can do this by giving your child a notebook or journal where they can write their prayers, thoughts, and feelings about God and their relationship with Him.
12. Personalized Cross Box by Spoken Gifts
On the occasion of her baby dedication, my daughter was given a beautiful necklace. This lovely case is a wonderful reminder of the day you promised Jesus that you would raise your child to love and worship him. It was a significant day for me.
She hadn't understood or cared about what was going on since she was a baby. She realizes the significance of the day now that she is 18 years old. We were promising God that we would raise her to love Him.
It is now up to her, at the age of 18, to ensure that she continues to devote time to becoming closer to God.
We will offer her children, our grandchildren, a similar gift in the future. I'm unable to do so.


Conclusion
Today, the internet is our memory bank. It's where we keep our files, our photos, our videos, our documents, and our emails. Our lives today are digital, and the internet is where we store them. Our lives will only become more digital in the future.
We save our emails, our text messages, our photos — our digital memories. But what about the physical things we've kept over the years?
The letters, the cards, the photos, the objects that help us remember the people and experiences that have shaped our lives. We want a place to keep all these memories together, a place that's accessible, safe, and secure. Putting them in any of these Christian jewelry boxes could be a good idea :)
Give your loved ones a place to store all the things that matter to them.