15 With God All Things Are Possible Wall Art Ideas (Matthew 19:26)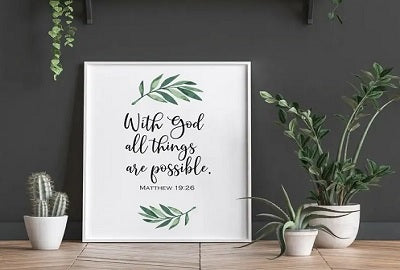 With God All Things Are Possible Wall Art
Many individuals use science in an attempt to explain events mentioned in the Bible. With human thinking these events seem irrational and unthinkable. However, things that seem like made up stories are more than possible with an all-powerful God.
Let's dive into this inspiring collection of wall art ideas that focus on possibilities and what we can accomplish with the help of the Lord.
1. With God All Things Are Possible Metal Sign by Hotop
The bedroom is one of those spaces that I find as a retreat. Sometimes I'll just hop in bed, unwind, and forget all the things that make me anxious.
By the time I hop out of bed, I would have a fresh pair of eyes and a clearer mind on what I wish to do.
This motivational metal sign has the right sentiment to turn any bedroom into a calming retreat. As you unwind and deal with the things that make you anxious just reflect on the words.
2. Matthew 19:26 Canvas Print by Christian Walls
After listening to the parable about the rich young ruler, Jesus' disciples started to doubt that anyone would make it to heaven.
The young man was rich and he followed all the commandments but he preferred to hold on to his wealth rather than share it with others.
This nature themed canvas is a great reminder that God created this beautiful world and shared it with us. We too should be ready and willing to share with others.
You may find it hard to part with something that you love or to sacrifice so that others may benefit.
This wall art is saying, even though it's hard it's still very possible. It's a great decor item that will inspire you and your entire household to give to the needy.
3. Bible Verse Metal Art by Vivegate
Since I mention giving to the needy, I'm going to ask this question. Are you usually responsible for planning fundraisers or charity events? If your answer is yes then this art piece will be great for you.
Keep it at the office, mount it where you write those letters and make those calls, and repeat the text aloud each time you reach out to someone to support your cause.
It will provide the motivation you need to keep going even when the prospects seem daunting.
4. With God All Things Are Possible Acrylic by inspiring_gifts
This item would make a great gift for a newly baptized friend or member of your church.
Change doesn't take place overnight and slipups may happen but it's important not to give up.
This acrylic print will provide a nice modern touch to any wall while encouraging a friend to believe in the cross and what it makes possible-eternal life.
5. With God All Things Are Possible Framed Print by Home Décor Print Studio
This entire picture forces me to think about the endless possibilities we are able to achieve with a little foresight and some effort.
Take for instance the wall in the picture. Maybe it was there looking empty and uninspiring but with a few decorative touches it's now a nature filled spot that creates a calming energy.
The possibilities you are able to create with this framed print can only be limited by your imagination.
Design a reading nook, a prayer corner, or a motivational wall that will inspire you and others.
6. Matthew 19:26 Hanging Canvas by Topthink
Imagine waking up every day and telling yourself that things are going to work out in spite of the odds.
Starting the day with a positive mindset or leaving home with an optimistic attitude is a great way to conquer life's challenges even before you find out what they are.
Place this banner in one of those areas that you can't avoid during your morning routine, hang it right where you grab the keys before you go through the door, or position it on your porch so you'll see it every day when you leave home.
7. With God all Things Are Possible Acrylic Print by KJV Calligraphy
This Bible quote is able to add a nice splash of color and inspiration to your décor. The white background, flowing letters, and shades of blue and green will create a relaxing feel and will blend nicely into almost any room.
8. All Things Are Possible Poster by Barewalls
I've known some teenage boys who challenged me to think outside the box as a youth leader. As a matter of fact, they were not afraid to challenge authority or the way of thinking.
Maybe you prefer to work with compliant boys who follow the rules and do what they are told even if the directive given is not the most practical or reasonable one.
Nothing is wrong with that because we all have an appreciation for order and discipline.
This poster will help to cope with those out of the box scenarios. Yes, you can lead even the most unconventional youth.
The Lord will work in and through you to accomplish great things.
9. Mark 10:27 Wall Decal by Old Barn Rescue Company
This wall decal will be nothing but elegant on your wall. It will remind you to include the most important person-God in all your plans.
Allow Him to be your guide and watch mountains move as He manifests His purpose in your life.
10. With God All Things Are Possible Wall Plaque by Christian Art Gifts
If I tell you that I love going to hospitals I wouldn't be speaking the truth. In fact, it's one of those places I'm terrified of.
Get me close enough to a hospital and I get all teary and anxious. If I stay there long enough there's a great chance my blood pressure will start to increase.
I know I'm a hot mess when it comes to hospital but you and I have to keep it together and be strong for friends and family members who are unwell. That's where plenty of prayer and keeping positive comes in.
This wall plaque might be a great way to cheer up someone in the hospital. They may place it at their bedside while they are there and they can mount it on a wall when they get home.
This token will continue to have a lasting impact well after recovery.
11. With God All Things Are Possible Watercolor Poster by withlovekc
This watercolor poster will be a great addition to add positive energy and a rich display of hues to any décor.
It will go great in a child's bedroom or it may create a fresh and modern feel to your living room.
12. With God All Things Are Possible Wall Decal by Awesome Walls
Sometimes I feel like I'm definitely not going to make a deadline or I just can't figure out how to do a particular thing. If you are a mom, wife, or student you know what I'm talking about.
This Matthew 19:26 wall decal can certainly come in handy when you are feeling overwhelmed.
It will look fantastic in a dorm room, above a study table, or just about anywhere.
13. With God All Things Are Possible Wooden Sign by Sullivan Woodwork
Teachers always have a bag of tricks that they use to motivate students. Tailoring the lesson so it feels like you could be the one teaching it or saying just the right words when you feel like giving up are just some of the tactics they use.
I've used these tactics several times in the classroom or while interacting with youth groups at church.
I've made catchy songs that make memorizing a breeze and I've displayed posters and charts that reinforce concepts.
This engraved wooden sign is one of those items you can add to your bag of tricks as you motivate and reinforce important information.
It's great for hanging in a classroom, vacation Bible school room, the area where the youth choir practices, or just about anywhere else.
14. Floral Design Wood Hanging Sign by P. Graham Dunn
Sometimes when I'm cooking, I remove the seeds from fruits and other fresh produce in hopes of planting them. That's actually the easy part. I plant them but there is no guarantee that they will grow.
It's not easy planting and having nothing to show for it and this is why some individuals just give up.
If you are starting a garden or simply just want to try out your green thumb it's best to start out thinking that you are actually going to succeed.
This nature themed wood hanging sign has just the words to inspire anyone who plans on testing out their green thumb.
As you plant, water, and keep pests at bay keep telling yourself that all things are possible.
15. With God Multi Paneled Canvas by Christian Walls



Like anything else in life, marriage has its fair share of ups and downs. Spending quality time with each other, balancing work and other responsibilities, parenting, finance, and health are some of the things that pose challenges in a marriage.
Challenges will come but one thing is certain, God is the glue that holds marriages together. This multi paneled wall canvas is an excellent idea for an anniversary or wedding gift.
It's a thoughtful way to remind a family member, your in-law, or soon to be married friend to depend on the Lord in good times and bad times.
Final thought
I hope that these wall art ideas will beauty your décor and inspire you to remain optimistic. Remember, with God all things are possible.