14 Man of God Gifts (Masculine & Strong Christian Gifts for Guys!)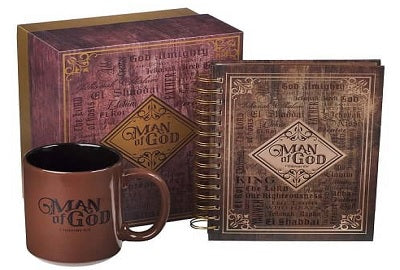 Man of God Gifts
Our families are stronger when we have men of God. Fathers are important to their children's development. They offer guidance, discipline, and love. They teach the importance of being a man of God.
We should celebrate men of God in our families. When we do, our families feel stronger and safer. When we don't, our families feel small and vulnerable. 
When I was younger, I thought that the men in my family were men of God. My grandfather and father were pastors, and my father provided spiritual leadership in our communities.
I never questioned the importance of a man of God in our lives. I just knew that my family was better for their faith. Now I am married to a wonderful Man of God.
Here are some ways we can celebrate them. Finding the perfect manly gift that celebrates your man of God, can be hard to do, here are some great ideas.
1. Man of God Mug and Journal by Christian Art Gifts
My husband is a truck driver. He wakes early and leaves the house by 4:00am. Before he leaves, he spends time studying the Bible and then sets the timer on the coffee maker, so I wake up to the smell of coffee brewing.  I want to thank him for all the little things he does.
Indulge the men in your life with a personalized mug and journal set. It's the perfect Man of God gift for the coffee addict in your life, or the writer who loves to capture his thoughts from his daily devotions.
He'll be able to use the mug to drink his favorite coffee, and the journal will allow him to write out the lessons he has learned from his daily Bible reading. What more could a man want to show his appreciation for the women in his life? –
Father's Day is coming up, and you're looking for a unique gift for the special man in your life. He loves his coffee in the morning, but you're not sure what to get him.
What if you could give him a mug and journal as a Man of God gift? He could write down all the things he's grateful for, and then pour his coffee out for the day.
2. Joshua 1:9 Be Strong and Courageous Wall Art by Christian Walls
Art is a powerful tool that can leave an impression on those who see it. Show your men how much you appreciate their hard work by giving them this stunning arty work that will celebrates their strength and courage.
This art piece depicts your man of God's spirit and captures their strength and courage. Let your men know that you treasure the time you spend together by giving a piece of art that will be loved for years to come.
We have an article on Joshua 1:9 gifts but besides that it is one of the most inspiring Bible verses for men. Give them this amazing artwork to keep this verse on their wall for them to see every day.
3. Man of God Tumbler by Jewels 521
Tumblers make great gifts! They can be personalised, engraved, and come in a variety of styles to suit any occasion. They make great corporate gifts, birthday gifts, and wedding gifts for the happy couple.
They're also a great way to get your brand noticed at trade shows and conferences.
One of the things I love to see in churches is when they have men conferences. This is a great man of God gift to give to attendees at a men's church conference.
4. Man of God Pens by Church Supplier
It's a good idea to give pens as a group gift. They're a simple and thoughtful gift that most people will appreciate. And if you want to give pens as a group gift, you can get these pens that come in bulk from Church Supplier.  
When the men leave your conference, they will have this reminder of everything they have learned at your conference.
5. Man of God Wallet by Next Level Engraving
I have a nephew that is turning thirteen years old in a few weeks. We want to give him a Man of God gift that shows he is a man, and more importantly he is a man of God.
Wallets are an important way for men to carry their money and important cards. They can be a sign of masculinity and a way to proudly display your manhood.
However, it is also important to be prepared for when the time comes to hand over the reins to the younger men in our families. When your son, grandson, or nephew is old enough, get him is own wallet. 
6. Man of God Coffee Mug by Lil Savvy Gifts
My husband is a warrior. He stands in the gap and protects our family from satanic attack. He takes the arrows Satan throws at us, and he carries our burdens.
This mug has the text "A Child of God, a Man of Faith, a Warrior of Christ" These words describe my husband. I am so thankful for him.
Don't give away a boring old coffee mug, instead give this unique Man of God gift for a man with a bold print. Coffee mugs make for great gifts for men since they're used to holding coffee all day long.
When you give a mug with a great bold message like this one, he'll use it even more often. It's also a great way to show him that you believe he is a warrior.
Every warrior needs armor. You can tell your husband, father, or son you are proud they have the character that shows the armor of God.
7. T Shirt by Talking Tees 316
Iron Sharpens Iron. Brothers in Christ.
My husband has a group of men in his life that he can talk to about struggles in the family and ask them for prayer. These men help and encourage him, and he also does the same thing for them. We meet as families once a week, and they meet alone as men once a month. 
Men are more likely to buy a T-shirt with a cool design if the shirt says something meaningful. The message on the shirt should be a way of encouraging men.
This shirt shows strength and has a very powerful message to remind men it is their responsibility to sharpen the other men in their lives.
8. Man of God Cuff Links by Korena Loves
My husband doesn't have job that requires cuff links. However, he is in the process of starting his own business and that will require him meeting with new clients. I am looking for some gifts to celebrate his new business. This is a wonderful idea.
Treat your men to a set of cuff links for their birthday, anniversary, or any other special occasion. Cuff links are a great way to show your appreciation for their hard work and dedication.
As a gift option, they're also a lot more memorable than a card or tie.  These cuffs are even better because they tell your husband or father you believe he is a man of God.
You can also have these cuffs customized with their names.
9. Wood Valet Box by Utart Design
When my husband gets home from work, he has a spot where he puts his keys, wallet, and sunglasses. When I saw this beautiful box, I wanted to upgrade his station.
When we give our men a gift like this, we are showing we appreciate their hard work, and we want to make their life easier by keeping them organized. This is a wonderful thank-you gift.  
Your husband will start his day with confidence when he doesn't have to search for his keys, or wallet.
10. Man of God Journal by Christian Art Gifts
When my husband does his devotions, he should have a place to write down the things God is telling him.
We all know that it's important for us women to have a place to write our feelings down so we can process them and understand our emotions better.
But for some reason, when it comes to men, we don't think about giving them a journal so they can have a place to process their feelings and figure out how they're feeling.
But just like it's important for women to have a place to explore their emotions, it's just as important for men to have a place to explore their emotions.
If we give our men a journal so they have a place to explore their emotions, then they will be able to better understand their emotions, which will help them to better understand themselves.
11. The Restored Man Audio Book By Randy Hemphill
My husband is a truck driver. He loves to listen to podcasts, or audio books. I am always looking for great audio books for him. This audio book talks about every man's path with God.
The book gets to a point where advice and approaches just do not work. The Restored Man isn't just another religious book to read or a religious box to tick.
Your husband, father, or son can take this practical, life-changing road to a better and healthier connection with God and others.
12. Man of God Challenge Coin by Logos Trading Post
Just last week I met a man who was in the military. He told he about the challenge coin. It was something I had never heard of before.
The challenge coin is a tradition in the military that dates all the way back to Roman time. During the time of the Roman Empire, Legionnaires were awarded coins that were considered symbols of their loyalty and bravery.
The coins depicted scenes of military victories and were often given as gifts to demonstrate gratitude and loyalty.
Today, the tradition of awarding coins to military personnel continues, though the coins are often given to recognize the special qualities of leadership, service, and dedication that are necessary to succeed in the military.
Our men are in the army of God. This courage coin is stamped with the message from Joshua 1:9. I love this idea because of the historical significance of the challenge coin.
13. Five in One Tape Measure by Divinity Boutique
We are in the process of re-doing the upstairs bathroom. That means our family of six, including four teenage daughters are all sharing one bathroom. I am defiantly in a rush to get that bathroom finished.
There are a few things needed for every renovation. Measuring tape, calculator, paper, and pen. This very cool measuring tape has all of those. And it is engraved with a message from God.
Most men don't think much about their tape measures until they need one. Then, suddenly, they're obsessed with finding the right one. They ask friends, they check reviews, they read product descriptions.
They try on different lengths and girths until they find one that fits.
14. Hiker on Top Wall Art Christian Walls
Art can do more than decorate a room or accentuate a wall. Art can bring people together, inspire thought and conversation, and help you build a stronger team.
When you invest in the right art for your team, you invest in the people who will be spending time in the space. Choose art that makes your employees feel proud to be a part of the team and that brings the team together.
This artwork will inspire the men in your life to be bold, strong, and courageous. I would put this artwork in a gym, or office.
Since my husband is starting a new business one of the things, we are doing is turning a room in our house into an office. This will make a great piece of art for the office. This is a piece of artwork that is powerful.
Conclusion
There are many reasons we give gifts to our men. We are often looking for Christmas gifts for our husband, or it could be a birthday, anniversary, or father's day. But the best kinds of gift are the surprise gifts that are not dictated by the calendar.
Give your man a wonderful gift today, just to tell him you love him, and you are thankful he is a man of God.