12 Prayer Of Jabez Wall Art Ideas (God will answer prayers!)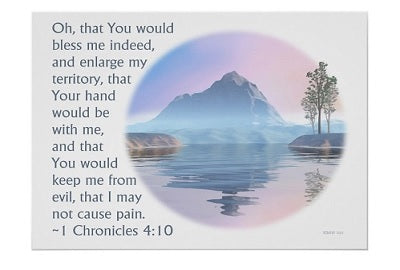 Prayer Of Jabez Wall Art
The Prayer of Jabez is a great scripture to memorize and keep handy. The powerful words show how much God is willing to give to us if we make our requests known to Him.
Let's take a look at how 1 Chronicles 4:10 wall art may be used to add depth to our prayer life and meaning to our decor.
1. Prayer of Jabez Metal Print by deberryg
I enjoy going to the beach. Floating, lounging in the sun, playing in the sand, listening to the waves, and embracing the gentle touch of the wind all remind me how blessed I am.
This Prayer of Jabez metal print will help you to be grateful for your blessings. The calming turquoise ocean touching the sand will bring a relaxing ambience to any space.
2. Jabez's Prayer Metal Print by Jewell McChesney
This nature themed metal print features a country scene, warm sunshine, tall trees, and Jabez's prayer in blue, with a mix of gray, blue, and fluffy white clouds in the background.
This artwork would be great above a mantle, in a living room, prayer room, or Bible study area. It will bring nature inside while creating a warm and prayerful mood.
3. 

Prayer of Jabez 

Acrylic Print by Nehemiah Art
Have you ever paused in the middle of what you were doing to say a quick prayer? I've done this more times than I can count.
There is no harm in making a request or saying thanks as you put a batch of cookies in the oven or carry out other tasks during the day.
With the help of this acrylic print, you may ask the Lord to keep His hands upon you while you carry out chores in your kitchen, dining room, or any other place in your house.
4. 1 Chronicles 4:10 Framed Wall Art by CandysChristianGifts
If you are in need of a token that will help someone reflect on God, this elegantly framed Bible verse wall art is a great idea.
A prayer for blessing, guidance, and protection will be whispered each time someone looks at it. The font and ornate frame will easily create a traditional vibe in any room.
5. 

Prayer of Jabez 

Canvas Print by Patricia Urato
My cousins and I came up with a fun alternative to tobogganing. We lived in a tropical countryside, but that didn't stop us from having an adventure on the slopes and hills near our house.
Well, if you are in need of something that will remind you of the countryside and all the adventures it has to offer, this piece will help. It features a large field, colorful trees, and green grass carpeting the ground.
Mount it, create an indoor adventure on your walls, and explore 1 Chronicles 4:10.
6. Prayer of Jabez Printable Wall Art by goodnewsxdesign
With a printable wall art like this, you are able to create a modern and fresh feel in any room.
The white background, crisp frame, subtle use of greenery, and the placement of the words all combine to create a simple yet trendy feel.
7. 

Prayer of Jabez 

Canvas by TLCGiftshopDesigns
My sister is the absolute best at gift giving. She has a process that ends with others receiving a well thought out gift that is nothing but perfect.
Maybe like my sister, you are in search of a gift that will inspire a friend while expressing your love for him or her.
This scripture wall art canvas will wow anyone. Better yet, it's going to look awesome in any room while it ministers to your friend.
8. 1 Chronicles 4:10 Bible Verse Poster by ABConcepts
The book of Proverbs has a lot of advice for boys and males. In chapter one, many of the verses include the phrase, 'my son' then give a warning or instruction.
You too, are able to give instruction and godly advice to your son. With the help of this Bible verse poster, you may say a number of things.
The gold silhouette of a male bowing will remind him to always pray.
He will also learn to beseech and depend on God. The Lord granted Jabez all that he asked for and He can do the same for your son.
God will increase his territory, bless him, keep His hands on him, and protect him from evil.
9. Enlarge My Territory Poster by BibleVerseArt
I admired my cousin's swimming skills when I was younger. While I awkwardly splashed about, he moved in the water with skillful grace. Being in water was like being in his natural element and he absolutely loved it.
This lake-view poster will let you feel like you are outdoors enjoying a swim or fishing. Why not hang it in that spot where you drink hot cocoa or sip on cider during the cold winter months.
You'll have a fantastic view and a beautiful prayer to reflect on as you await the return of warm weather.
10. Prayer of Jabez Hanging Blanket by IDNUYIA
Since I'm talking about warm and cozy, I have to mention this next piece. The Jabez hanging blanket will help you to add some warmth and richness to your decor.
Mount it in that cozy spot where you escape to for prayer, journaling, or relaxing.
As you meditate, imagine the blessings of the Lord wrapping around you like a comforting blanket.
11. 1 Chronicles 4:10 Wall Stickers by Southern Decalz
I usually write a scripture out then keep it close throughout the day to memorize it.
A copy on my fridge or my desk means I'm prompted to see how best I'm able to repeat it from memory.
A great way to memorize the prayer of Jabez is to have it somewhere that you'll see it. That's where this 1 Chronicles 4:10 wall decal comes in.
Stick it on a wall in your prayer room, your child's bedroom, or wherever you think it will have the most effect. In no time, it will be committed to memory.
12. Jabez Called On The God of Israel Wall Clock by Dea Paige
I'm of the view that some decor items can be functional and decorative at the same time. A clock is not only used to tell the time but should blend in or complement other elements around it.
With its natural wooden color, green background, and the prayer of Jabez in black lettering this clock is a true beauty.
A contemporary and colorful decor item that tells the time and petitions the throne of God.
Conclusion
I hope this Prayer of Jabez wall art collection will help you to add depth, meaning, and functionality to your decor. They are also great for bringing nature indoors and as gift ideas that will inspire others.