14 CUTE Baptism Decorations for Girls (Adorable & Memorable !)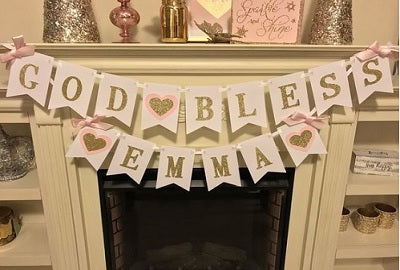 Baptism Decorations for Girls
You have got a lovely little daughter, and you're going to dedicate her to God. Your family and friends are all coming, and you will be throwing the celebration for her baptism following the church service. 
I've never been very adept at throwing parties. When my kids were younger, we did not have Pinterest, so we didn't have access to it for inspiration. There is a plethora of fantastic ideas available nowadays.
Here are a few of my personal Baptism Decorations for Girls favorites!
1. Pink Cake Table by DIY Design on Pinterest
I love this table idea. The cross-shaped food is a reminder of why you are celebrating. Because of God's great love for us, we can live in an abundance of grace and mercy. I think its unique Christian decor of a baptism decoration for your little girl!
I have attended parties with both kinds of cakes. My daughter hates cakes. We never make her cakes for birthdays, but she loves pop cakes and cupcakes. Having different options at the cake table will make your day more enjoyable. 
The cake is often the star of the dessert menu, but it does not have to be. You can serve cake pops, cupcakes, and cookies alongside your cake and let your guests experience a variety of sweet flavors and textures.
2. Baptism Decoration Centerpiece by Catchmyparty.com
This is an excellent idea if you are doing a sit-down party. I love this centerpiece for the tables. The baby picture is a great idea and can be given to the grandparents, aunts, and uncles after the party.
I love the flowers! and your little girl will also love the pink and purple colors :)
If you can host the Baptism party at the church where you have the baptism, this is an excellent idea for the centerpieces. If the church offers an area of their church for the party, I recommend using it.
That way, the guest does not have a second location to travel to.
3. Custom Invitation by customcandybarwrapper.com
Getting an invitation in the mail is among my top ten surprise happy moments in life. Think about the person who is receiving the invitation. Today we send out e-mail invitations or create a face group event.
My suggestion is not to do either of those things. Send out a cute version instead. 
This can be used for first communion or baptism. I love that you can change the skin tone and the hair color to match your little girl. Have this sitting on a table at the party as extra Baptism decor for girls!
4. Beach Style Table Setting by tidd.ly
Here is another great table setting. I am a huge fan of mason jars. We use them in our home as drinking glasses. I love how this table setting is simple yet elegant. This is an excellent idea for a Baptism party on a budget.
Centerpieces are a crucial part of any party. They add visual interest and provide a point of focus for guests' attention. At a formal party, the centerpiece should be the focus of attention. 
You can give away the centerpieces after the party. I have had a couple of centerpieces given to me at parties before. The strangest one was alive fish! 
5. Baptism Decor Table Center by artofit.org
The table setting is more gender neutral. I love this table setting because it can be used for many other things after the party. You could put baby wipes in this box or even toys.
The centerpiece is essential at a formal party. You want to make sure that whatever you use as the centerpiece is unique to your business. This is the first thing people will notice when they walk into your venue.
6. White Cake Table for Baptism Decoration by Amazon
Here is an excellent example of a cake table. I love the lamb idea. This would be good for a party where people are walking around and can take a cookie or cake pop and then walk around the party with it.
This is a wonderful way to serve cake instead of just having a slice. You can offer your customers cake pops, cupcakes, cookies, or other desserts filled with the cake.
This allows you to offer more desserts, but it also helps to increase the variety and gives guests a choice of what they want to eat. 
I really love this cute Baptism decoration for girls!
7. Angel Backdrop Baptism Decorations for Girls by TutuNChiffonStuidio (Etsy)
This is stunning! This is an excellent idea for the mom who wants a party that will always be remembered. This is an ideal backdrop for people to take pictures with your baby. I love this idea!
You will also want a picture area for your party to have pictures of your baby at each table. This is a terrific way to have guests come back year after year to celebrate with you and your little one.
It is also a fantastic way to have a keepsake of your little one's first birthday. You can even have a guestbook where people can sign their names and leave a note.
The colors, the flowers and everything is perfect as Baptism decor for girls!
8. Flower Backdrop Baptism Decoration by partymazing
This is a decoration idea that you can then use in your baby's nursery. It is so beautiful. I could see this hung behind the cake table.
I love the name is in the mirror, and the beautiful roses in pink and white are stunning. This would work in a nursery and a little girls' bedroom.
I think my teenagers might even like this in their bedroom.
9. Tiered Cake by blovelyevents.com
This is a great cake idea. I like the three-tiered look. The two different shades of pink and white are adorable.
The cake is the star of the food table. Make sure you have the perfect cake to fit your theme. I like to have the cake displayed in a beautiful stand or cake box to be the table's focal point. You can find these at any bakery or cake decorator.
10. The Adorable Invite (Baptism Decoration for Girls) by DIY Creation by belleasel.blogspot.com
When planning an event, most people think about the food and the music. The second thing they think about is the venue. The third thing to think about is the party invitations. 
Do not use email or Facebook invites. Send out paper copies. It's even better if you send out a custom almost handmade invite. This would match perfectly for a Baptism themed party for your little girl. 
11. Two -Tiered Cake by mycrownedcreations.com
The dessert is usually the show's star when it comes to the food table's food. You need to make sure that you have the perfect dessert for the party. This is the dessert that people will be talking about for weeks after the party.
Make sure that you have a delicious dessert unique to your little girl!
12. Custom Picture Frames by PopSugar
A backyard party is a great option. I have attended many backyard parties for baptisms, and they are always a hit.
This is especially true if many of the attendees at the party are families with little children. This gives space for the children to run and play. 
13. The Home Party by sparkleeverythingus (etsy)
There are trends to host very formal parties; however, most of the Baptism celebrations I have enjoyed have been home parties. They are less expensive and less formal, so they are. The dessert is usually the show's star were comfortable for your guests.
We used our home for the parties after our children were dedicated. I would use our home again if we did it all over again. When our babies needed to leave to take a nap, we could bring them to their bedroom.
14. The Formal Dinner by mommykrystal.com
If you want to host a formal dinner, this is an excellent centerpiece for the tables. I think this is great Baptism decoration for girls. I love the pearls and pictures. This is another great idea for giving away the centerpieces.
This decor is essential at a formal party. It sets the tone for the rest of the evening. You need to find something that is beautiful, and that will compliment your theme.
I like to use a lot of flowers to bring in the feminine side of the party.
 Conclusion
I hope you have a fantastic party. My final piece of advice is to create a hashtag and ask people to use it when posting pictures. That way you will be able to find all the pictures from the party and have access to more pictures than you could ever imagine. 
This is a special day. You are celebrating the day you made a promise to God to raise your child to love and serve God. Don't ever forget this day!