14 Christian Christening Gifts to make Babies look Super Cute! Click here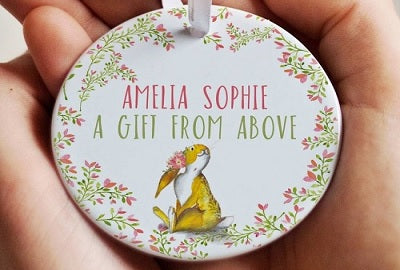 Christian Christening Gifts
I am not catholic, and so my children were not christened. They were, however, dedicated. My oldest threw up on the pastor during the dedication. The spit-up landed in his pocket.
I may not have ever had my children Christened; however, I have attended Christenings for catholic families. Bringing a gift for the party after is essential; finding the right gift can be challenging. Here are some of my ideas.
1. Ornament by Rose Cottage

My grandmother had this book series; I loved having her read it to me as a small child. The art from the book is in this ornament.  The ornament can be custom-made with the baby's name.
The message is essential. The baby is a gift from above. And this is a beautiful christening gift for him or her. That is easy to see when looking at an adorable baby. It can be harder to know when you visit a screaming toddler. 
Through the years, Mom and Dad can be reminded their precious little child is a gift from God.
2. James 1:2 Art Print by Christian Walls
If you are a particular family member, you will want to bring a more substantial gift. This artwork will make every child happy. Puppies! The verse is James 1:2 "Consider it pure joy my brothers and sisters." 
If the little one you are celebrating has brothers or sisters, this is an excellent christening gift for all the children. A message for brothers and sisters to live in Joy, regardless of the circumstances.
There will be many days of siblings playing together in the playroom. Putting God's message of joy for brothers and sisters is a way of praying over a room.
3. Personalized Building Blocks by Sophia Victoria Joy
Building blocks are great toys for kids. The first recorded use of children's blocks was in 1594 in a book written by Sir Hugh Plat, "The Jewel House of Art and Nature." 
It is impressive to think kids are playing with the same toys children were playing with within 1594, over 400 years ago.
These blocks are extra special because they are custom-made for the baby you celebrate. This means the blocks can be used as both a toy and a nursery décor. 
I love this idea! This is such an cute christening gift!
4. Baby Bonnet by Raspberry
The bonnet is making a comeback! There was a time when the bonnet was seen as old-fashioned, even costume-looking. But today, you will find the knitted bonnet on babies all over Instagram. The colors are always very neutral, usually beige. 
This is an excellent idea for moms who enjoy dressing their little on in the traditional look. 
5. Printable by Ales and Co printables
What happens if you realize you forgot to buy a gift and the christening is today! Here is a great idea. This is printable. You can print it in your home and then simply buy a basic frame on the way to the event. 
Printable are great go-to gifts when you need something quickly. 
This printable is personalized with the child's name and the date of the baptism. It will look like you put a lot of time and effort into this christening gift. No one will know you forgot.
6. Personalized Blanket by AW Bridal
This personalized blanket comes in both pink and blue. 
The first thing children learn to recognize is their name. I have a friend with a three-year-old that I watch regularly. Whenever she is in our home, I will write her name on something. She will always find it and be very excited to show it to me. 
Getting a blanket with the baby's name won't mean anything to the baby, but they will love it as soon as they are old enough to recognize their name. This will become a favorite blanket. As the child pulls the blanket around the house, they will also see the cross, reminding them of Gods' great love. 
7. Keepsake Box by CVEngraving
This is an adorable box—a way to carry a memory forever. I have had a box like this from my childhood. I keep this in a particular place.
These kinds of special memories can be handed down from generation to generation. 
My grandmother was born in 1928. I just had lunch with her today. Imagine if I had a box like this from her baby dedication. That would be amazing. 
Giving these little treasures is a way to pass along memories and treasures.
8. Onesie by Fay Faire
I love onesies. They are the most adorable thing about babies. My daughters had many of them, but sixteen years ago they didn't have the Christian options they have today.
This one is cute; it has blessed written on it.  
A baby can never have too many Onesies. The Onesies are whimsical and fun. The print is meant to be fun. There are so many great options for these shirts. Every store has an option.
The Christian ones are new to the market, they are great! I would highly recommend them
Make sure you buy a size bigger than you are planning. Onesies are often meant to be worn a little oversized for comfort. 
9. Socks by Hapiu
Add these adorable socks to the christening gift if you bought the Onesie listed above. 
These socks could be given early and worn to the Christening. The socks can be worn by either a little boy or a girl.  
A fun idea would be giving these socks when you RSVP that you will be attending. 
After the christening, there are many gifts, and yours may be lost in a pile; however, getting something before the event shows extra care. 
10. Personalized Elephant by K Rose Design Co
Here is another personalized christening gift option. Once again, the little one will soon learn to recognize their name. They will love taking this elephant around with them and seeing their name on it. But their name is not the only name. They will also see your name.
When you sit with the baby, you can show them their name; you can also show them your name. Perhaps they will learn to recognize both names.
11. Personalized Xylophone by Regalo UK
I don't love giving musical instruments to children unless you don't like the parents and want to torture them. 
The xylophone is the exception. The sound of the instrument is not as annoying as drums or pianos.
This one is extra cute because it is customized with the child's name. This is another option that will work as both a toy and a nursery décor.
As the baby gets older you can help them learn a song to play. Of course, that means you need to learn a song yourself.
12. Personalized Name Puzzle by Puzzle You
Another option for a toy with a nursery décor is the personalized name puzzle. This toy is educational. The child will recognize the letters in their name and fine motor skills. 
Every child loves puzzles; these block puzzles are always famous. The added charm of the privatization makes the toy extra charming.
13. Personalized Book by Letter Fest
This year at the Christmas gathering, my sister-in-law gave this book to two of my nephews and niece. Everyone loved it. 
The kids were excited to read a story about themselves. The aunts and uncles loved the christening gift as well. It was extraordinary.
This is an excellent idea if you want something that shows you took the time to put together something everyone will love. You can also leave a special message from you in the book. So, when the child reads the book, they will read your letter of love to them.
14. God loves His kid's Art by Christian Walls
The nursery needs art, so does the playroom. What better art than the message "God loves his kids."
It is true. God does love his kids. He loves the little one being christened. He created that little one for a reason. As the one you love is growing, they will be reminded God loves them. 
When my kids were little, I loved decorating the playroom. Storage, of course, was essential. But the one thing that I got first was the artwork. That is the focal of the playroom and what the rest of the room is designed around.
Give this artwork and help decorate the playroom. The child will play under the message of God's love every day. 
Conclusion
You have been invited to a very special event. Mom and Dad are going to stand before God and promise to realise their precious little one in His love. Making this promise to both God and the child is not something that should be taken lightly. No vow made before God should be taken lightly.
Even if you are not of the same faith as the mother and father, attend with honor. They would not be inviting you if you were not special.
This is the first step in years of helping this child grow close to God.