25 Helpful Bible Verses about Worry so you can Relax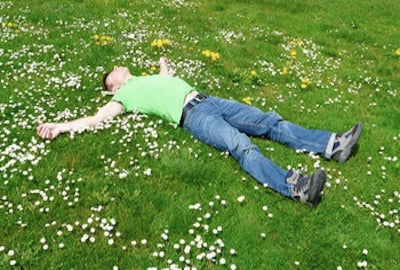 Bible Verses about Worry
In a fast paced world filled with uncertainties there is a lot to worry about. Much effort is spent being concerned and doubtful about: others and their well being, finances, and what the future holds.
Let's take a look at some Bible verses about worry and see how they may help you to find peace amid all the troubles that surround you.
Bible verses about worrying about others
But even if you should suffer for what is right, you are blessed. 'Do not fear their threats; do not be frightened'. 1 Peter 3:14 NIV
As followers of Christ we face the scrutiny of others because of the good things we do and say. The members of the early church had this same experience. They were persecuted for the sake of holiness.
This sentiment of being bold is also shared in Deuteronomy 31:8. "The LORD himself goes before you and will be with you; he will never leave you... Do not be afraid; do not be discouraged." Moses used these words to encourage and prepare Joshua mentally for the task that was ahead of him.
Trust in the LORD with all your heart and lean not on your own understanding; in all your ways submit to him, and he will make your paths straight. Proverbs 3:5,6 NIV
Having confidence is a great way to dispel doubt. That is why this text provides such pointed instruction. Fully trusting in the Lord means that we should wholeheartedly depend on Him and His wisdom.
When we put total confidence in an all knowing God and allow Him to lead and direct us we will be less concerned about the things that worry us and more focused on His guidance and direction.
God knows the beginning from the end so there is nothing new to Him or nothing that will surprise Him. When you start to fret about others just acknowledge Him and let Him direct your path.
Fear of man will prove to be a snare, but whoever trusts in the LORD is kept safe. Proverbs 29:25 NIV
It's not hard to become a prisoner of fear. One fearful thought is able to develop into a harmful mindset that traps you and steals your happiness.
Being fearful of others gives them power over you. Your thoughts, decisions, and actions will be determined by how you think and feel they will react. If you place your trust in God then there will be no need to make decisions based on others. No matter what they will do to you God is able to keep you safe.
Set your minds on things above, not on earthly things. Colossians 3:2 NIV
It's not very difficult to be obsessed with people. Whether you are fearful of others or are genuinely concerned about their wellbeing you may end up in a state of dismay or always be anxious.
This is why this passage encourages us to set our thoughts on things above rather than to preoccupy ourselves on the things and people around us. When we fix our gaze on God we see Him, become focused, and hope towards the glorious home He has planned.
The angel of the LORD encamps around those who fear him, and he delivers them. Psalm 34:7 NIV
David was dependent on God to help and deliver him from all his sorrows. Because of this he was able to testify that God encircles and delivers those who fear Him.
Believe that God will protect you from danger, surround you, and be your refuge. Be assured that there is no person too great or any problem too hard for God to handle. Your concerns may be great but God is greater.
Bible verses about worry about the future
When anxiety was great within me, your consolation brought me joy. Psalm 94:19 NIV
I like the way the ESV translation puts this verse. "...your consolations cheer my soul."
God will console, cheer up, and give you joy in your most sorrowful & anxious moments. Let His warmth be a delight to your soul as you wait in patience and lean on His everlasting arms.
What, then, shall we say in response to these things? If God is for us, who can be against us? He who did not spare his own Son, but gave him up for us all--how will he not also, along with him, graciously give us all things? Romans 8:31,32 NIV
The Lord has already made provisions for us spiritually and literally. He provides new mercies every morning for us. He also sent His son to save us and secure our destinies.
Accept Jesus Christ as your Redeemer and embrace the daily bounties that God provides and your spiritual and literal wellbeing will be taken care of. Don't worry about the cares of today. Count your blessings and look forward to that perfect home where fear and the things of this world will be no more.
For the Spirit God gave us does not make us timid, but gives us power, love and self-discipline. 2 Timothy 1:7 NIV
God does not want us to be fearful about what lies ahead or anything else. He wants us to feel empowered, loved, and in total control of our thoughts and our destiny.
That is why He has imbued us with power, compassion, and self control. After Jesus left the earth He promised that He will send the Comforter to give us guidance. "But when he...comes, he will guide you into all the truth." (John 16:13)
You guide me with your counsel, and afterward you will take me into glory. Psalm 73:24 NIV
There is no need to be fearful or anxious about what lies ahead. The Lord will direct and counsel us as we daily navigate through any challenges that come our way.
Secondly, we are certain of our destiny therefore we need not fixate on every tiny detail because Jesus is leading us to a glorious destiny.
But now, this is what the LORD says-- he who created you, Jacob, he who formed you, Israel: 'Do not fear, for I have redeemed you; I have summoned you by name; you are mine. Isaiah 43:1 NIV
This Bible passage is a great reminder that amids stress and any other emotional challenges God wants the very best for us.
He claims us as His own children, He has redeemed us, He personally knows each of us by name, and He doesn't want us to be afraid. Luke 12:7 states that, "Indeed, the very hairs of your head are all numbered. Don't be afraid; you are worth more than many sparrows".
Set aside any anxiety that you have as you place your thoughts and your life in the Hands of your Father.
Bible verses about worry about money
And my God will meet all your needs according to the riches of his glory in Christ Jesus. Philippians 4:19 NIV
Money is very important as it is needed to provide for basic needs and operate in the world of commerce. This does not mean that we should be overly focused on money or the lack thereof.
Sometimes the Lord takes away or limits the things we have to test our dependence on Him and our patience. In other instances He wants us to realize that the things we have and are able to accomplish or not by our doing.
If your financial wellbeing is not what you would hope it to be or you are finding it difficult to balance your budget take heart. This might be a gentle test of faith for you to depend on Jehovah Jireh to meet your financial and spiritual needs.
Keep your lives free from the love of money and be content with what you have, because God has said, 'Never will I leave you; never will I forsake you'. Hebrews 13:5 NIV
Money is essential and needed for day to day transactions but that doesn't mean we should use every waking moment trying to make and spend it. The lust for money will essentially create an idol in our sight so we shouldn't obsess about it.
This Bible verse is a timely reminder that we should be grateful for what we have. In our hour of need God will not abandon us or withdraw His favor. All we need to do is request His blessings and look to Him for our provisions.
I was young and now I am old, yet I have never seen the righteous forsaken or their children begging bread. Psalm 37:25 NIV
We can always depend on the fact that the Lord will never desert us or neglect our needs. David stated that he has not seen the virtuous deserted nor His seed begging bread.
The Lord has made provision for the fowls in the sky and the lillies in the field. The Lord has also made provision for you and all your needs.
But blessed is the one who trusts in the LORD, whose confidence is in him. Jeremiah 17:7 NIV
Replace your insecurities with confidence and depend solely on God. Instead of agonizing about your finances, count your blessings. You will realize that you have more than enough to be thankful for.
He has favored you in the past and no doubt He will continue to bless you as you confide in Him and place your worries at His feet. 2 Corinthians 9:8 states that, "...God is able to bless you abundantly, so that in all things at all times, having all that you need, you will abound in every good work".
The LORD is my shepherd, I lack nothing. Psalm 23:1 NIV
This powerful Psalm is reason enough not to fixate on money. It describes the relationship that we have with the Lord. He is our Shepherd. The One who leads us to green pastures and replenishes us.
We can be assured that all our needs will be met by our caring and compassionate Shepherd. Even while we are going through difficult times there is no need to fear because He is our source of solace.
"Even though I walk through the darkest valley, I will fear no evil, for you are with me…" (Psalm 23:4)
Bible verses about worry and doubt
Do not be anxious about anything, but in every situation, by prayer and petition, with thanksgiving, present your requests to God. Philippians 4:6 NIV
The Lord doesn't want us to be apprehensive and remain in a state of mind where we are always tense. He wants us to be calm, relaxed, and confident.
Assume a mindset of humility as you petition the throne of grace. Place your doubt at His feet, let them stay there, and embrace His calming consolation, protection, and provision.
Cast all your anxiety on him because he cares for you. 1 Peter 5:7 NIV
God cares so much about your wellbeing that He sent His only son to die for you. He has a boundless and measureless adoration for you and His desire is for you to find contentment mentally, physically, and spiritually.
He cares for you and this is why you are able to freely cast your woes on Him without feeling guilty. The God who bore your sin and shame is more than happy to relieve you of your pains.
Look at the birds of the air; they do not sow or reap or store away in barns, and yet your heavenly Father feeds them. Are you not much more valuable than they? Matthew 6:26 NIV
God takes so much interest in every aspect of creation. He pays keen attention to the animals and plants. He makes sure the birds are cared for. Jesus himself noted that "...not even Solomon in all his splendor was dressed like" the lilies of the field.
You are the crowning masterpiece of God's creation. If He pays so much attention to the wellbeing of plants and animals how much more does He care for you and wants to be your helper?
Cast your cares on the LORD and he will sustain you; he will never let the righteous be shaken. Psalm 55:22 NIV
Apprehension has a tendency to weigh us down. God does not want us to be burdened with cares. He would much prefer to sustain us as we share our burdens with Him.
If you are overwhelmed your focus will be on the things that weigh you down. You will turn your gaze away from God and place it on your apprehensions. God wants you to fix your gaze on Him because He will never allow the worthy to be shaken.
When I am afraid, I put my trust in you. Psalm 56:3 NIV
The book of Psalms details many instances where God sheltered, protected, and rescued David when he was dismayed, sorrowful, and confronted with fear. David learnt how to trust in God and hand his uncertainties over to Him.
The book of wisdom states that, "anxiety weighs down the heart, but a kind word cheers it up". David did not want miseries to overwhelm him or to be burdened. Learn from David's example, he called and God answered him. Confide in God, and let His kindness cheer you up.
Bible verses about overcoming worry
But seek first his kingdom and his righteousness, and all these things will be given to you as well. Therefore do not worry about tomorrow, for tomorrow will worry about itself. Each day has enough trouble of its own. Matthew 6:33,34 NIV
A great way to have ease is to keep focused on God's Promised home and His goodness. Those who inherit the celestial home are considered His heirs.
Fill your mind with the fact that you are a child of the Most High and dwell on the thought that one day soon you will live with Him in a celestial land. Your uncertainties will fade in comparison to the beautiful mansion God has planned for you.
I know what it is to be in need, and I know what it is to have plenty. I have learned the secret of being content in any and every situation, whether well fed or hungry, whether living in plenty or in want. Philippians 4:12 NIV
You will go through different seasons in your life. Seasons of plenty and seasons of drought. Periods of happiness and sometimes a bout of doubt. During these times be mindful of Ecclesiastes 3:1 (There is...a season for every activity under the heavens) as you motivate yourself.
Tap into 'the secret of being content' and foster tranquility with this text. "I can do all this through him who gives me strength." Repeat these words and affirm yourself as you relax and trust in Him who is able to fortify you mentally and spiritually.
Come to me, all you who are weary and burdened, and I will give you rest. Take my yoke upon you and learn from me, for I am gentle and humble in heart, and you will find rest for your souls. Matthew 11:28,29 NIV
A great way for dealing with worry is to take the bond of Jesus. He promised that His load is manageable.
When you become weary and burdened by all the things that distress you, you just need to go to Jesus. He is gentle, humble, and compassionate and He wants to give you repose from your uneasiness.
You will keep in perfect peace those whose minds are steadfast, because they trust in you. Isaiah 26:3 NIV
If you intentionally deal with your problems you will eventually find peace. Discipline and dedication along with total trust in God will lead to tranquility. The peace that the Lord gives is not like what the world offers. It is sufficient, fulfilling, lasting, and exceeds all understanding.
Follow the advice given by the Apostle to surrender your woes and experience lasting serenity. "Humble yourselves, therefore, under God's mighty hand, that he may lift you up..."
He will wipe every tear from their eyes. There will be no more death' or mourning or crying or pain, for the old order of things has passed away.' Revelation 21:4 NIV
Reading this passage provides solace that may help to overcome worry. It points to a land where the cares of this world will not stay in our thoughts or in our hearts. A land free from sin, stress, anxiety and strain.
Whatever it is that concerns you now will soon be a thing of the past. The psalmist says that weeping may endure for a night but joy will come in the morning.
Let us remain hopeful and faithful until that blissful morning where the former things will pass away. There will be no more death, mourning, crying or pain to make us anxious, or worried.
Final thought on worry
I pray that amid your worries, doubt, anxiety, and cares that you will find peace. I'll leave you with a text from 2 Thessalonians 3:16. "Now may the Lord of peace himself give you peace at all times and in every way. The Lord be with all of you." Amen