25 Bible verses about Grief & How to Overcome & Cope with it.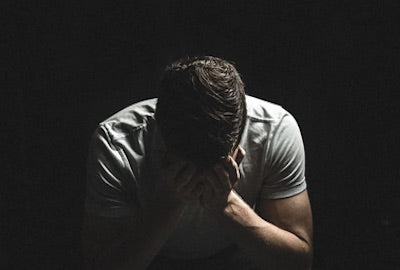 Bible verses about Grief
All of us at some point in our lives have experienced grief. In those difficult times, we come face to face with the reality of the original sin that brought death into this world. Yet in those hard times, we also come face to face with the God of comfort that is so near to us in times of need. His Word can comfort us through our times of grief, so let's look at what the Bible has to say to us.
Table of Contents
Bible Verses About Grief and Loss
Most often, grief comes in the form of a lost loved one. Especially in recent times in the world, we must face the reality of death and grief as people we care about pass over into the next life.
"My flesh and my heart fail; but God is the strength of my heart and my portion forever." – Psalm 73:26 (NKJV)
Even though our bodies are mortal and fail us, this verse reminds us of where our true strength comes from. As age sets in and we realize that we aren't quite as able as we used to be, we have to remember where our true strength comes from at all times.
God gives us strength through His Spirit despite the physical ailments that we may experience. He is truly our strength and our portion forever.
"The wicked is banished in his wickedness, but the righteous has a refuge in his death." – Proverbs 14:32 (NKJV)
It can be hard when we are experiencing grief to see others prospering, especially those who are far from the Lord. We sometimes can struggle with the question of why if our loved one is taken from us while others are living immoral lives far away from God.
Yet we must be reminded that God deals with justice in the final days. The wicked will be banished in their wickedness, but the righteous find refuge even in death. When the righteous die, they find themselves with the Lord and find refuge and strength for eternity.
"Let not your heart be troubled; you believe in God, believe also in Me. In My Father's house are many mansions; if it were not so, I would have told you. I go to prepare a place for you. And if I go and prepare a place for you, I will come again and receive you to Myself; that where I am, there you may be also. And where I go you know, and the way you know." – John 14:1-4 (NKJV)
Jesus says this in the Gospels to let us know that beyond death, there is a place for us. Better yet, there is not only a place for us, but Jesus Christ Himself has gone to prepare that place for us.
I think that we can rest assured that it's going to be something amazing! When we lose those we love to death and we are in times of grief, we have to remember that Jesus has already prepared a place for them in His presence. They will be safe with Him and are in a good place with Him.
"But I do not want you to be ignorant, brethren, concerning those who have fallen asleep, lest you sorrow as others who have no hope." – 1 Thessalonians 4:13 (NKJV)
When we experience loss as Christians, Paul says that our response should be different to those who don't have Christ in their lives. Why is this the case? It's because we have a hope that they don't have.
We know that there is life beyond death and that if you believe in Christ, you will experience eternal life in His presence after death. Therefore, let us not sorrow as those who have no hope, but let us rejoice in our grief as we recognize the price that Christ paid for us to be able to experience life eternal.
"Inasmuch then as the children have partaken of flesh and blood, He Himself likewise shared in the same, that through death He might destroy him who had the power of death, that is, the devil, and release those who through fear of death were all their lifetime subject to bondage." – Hebrews 2:14-15 (NKJV)
When Jesus died on the cross, He was experiencing the death of humanity that we go through because of our sinful nature. Yet He didn't stay dead; rather, He experienced death so that He could destroy death and free everyone from the bondage of death by His resurrection.
Therefore, when we experience grief from a loss, we can glorify God for the fact that because He sent His Son to die for us, we too can conquer death and experience everlasting life through His resurrection.
Bible Verses About Grief and Sorrow
What often comes with grief is sorrow. Many times, it can feel like we get stuck in a state of sorrow; that nothing seems to be going right, and if it isn't one thing, it's another. Here are some verses that can help us get through those times.
"For He has not despised nor abhorred the affliction of the afflicted; nor has He hidden His face from Him; but when He cried to Him, He heard." – Psalm 22:24 (NKJV)
The god of the Bible is not a god who is transcendent from His people. He is not a god who leaves His people to their own devices and lets them figure things out on their own. Instead, God is one who hears the cries of those who are afflicted with grief and sorrow.
He is with us in the midst of the pain and the sadness. He doesn't hide Himself from us in those times and He draws near to those who draw near to Him.
"Peace I leave with you, My peace I give to you; not as the world gives do I give to you. Let not your heart be troubled, neither let it be afraid." – John 14:27 (NKJV)
Christ came and left peace with us so that when we are troubled, we can turn to Him instead. The world tries to give us peace, but it never works. Its forms of peace are always trivial and temporary. Instead, Christ left us His peace so that we don't have to be troubled or afraid. He freely gives us peace in believing so that we can use it to combat grief and sorrow.
"Seeing then that we have a great High Priest who has passed through the heavens, Jesus the Son of God, let us hold fast our confession. For we do not have a High Priest who cannot sympathize with our weaknesses, but was in all points tempted as we are, yet without sin. Let us therefore come boldly to the throne of grace, that we may obtain mercy and find grace to help in time of need." – Hebrews 4:14-16 (NKJV)
One of the most comforting facts of Christ's time here on earth is that the Bible tells us here in Hebrews that He went through all the weaknesses and temptations that we as humans go through on a daily basis.
He knows how it is to be human; He's experienced it. Therefore, we can draw close to Him in times of grief and sorrow, knowing that He knows what we are going through. By coming to Him in those times, we can find mercy and grace in our time of need.
"Blessed be the God and Father of our Lord Jesus Christ, the Father of mercies and God of all comfort, who comforts us in all our tribulation, that we may be able to comfort those who are in any trouble, with the comfort with which ourselves are comforted by God." – 2 Corinthians 1:3-4 (NKJV)
In our grief and our sorrow, God comforts us in all that we go through. However, He also does it for another purpose other than our need for His comfort.
He does it for other people's need for His comfort so that when we see someone going through a similar situation, we can point them to the comfort which comforted us in our own time of need. We can pass on God's comfort to others when we have experienced it ourselves in similar situations.
"Blessed are you who hunger now, for you shall be filled. Blessed are you who weep now, for you shall laugh." – Luke 6:21 (NKJV)
Even when we are in a time of grief and spent with sorrow, we know that joy is always around the corner. After there is a time to mourn, there will again come a time to laugh. God is a god of joy and gladness and in His presence, his people find healing and they renew their strength.
No matter what situation you are in, know that those who hunger and weep are blessed because God is coming to your aid day by day. Never doubt His provision and His unfailing love for you, even in the hardest times.
Bible Verses About Grief and Healing
Even though we go through times of grief, there is always healing found in the presence of the Lord. Healing is an essential process because it brings us to the place where God wants us to be.
"For His anger is but for a moment, His favor is for life; weeping may endure for a night, but joy comes in the morning." – Psalm 30:5 (NKJV)
Throughout the Bible, we see a contrast between God's anger and His mercy. Yet in every single instance, it is stressed that God's anger is temporary, but His mercy is forever. His mercy wins out over His anger every time.
Just like this, we may experience grief for a time, but the time to heal is coming. We have to remember that grief is temporary, but God's eternal joy and mercy are just around the corner.
"For this is God, our God forever and ever; He will be our guide even to death." – Psalm 48:14 (NKJV)
God never leaves us. An essential part of healing from grief is understanding and recognizing that God is our guide in all things. Even in death or mourning or crying, God will still be our guide.
He never leaves us or forsakes us, even in the darkest pits of our lives. Even when we are trying to cope with grief, we are able to find healing in the fact that the Lord will always guide us to where we need to go.
"Come to Me, all you who labor and are heavy laden, and I will give you rest. Take My yoke upon you and learn from Me, for I am gentle and lowly in heart, and you will find rest for your souls. For My yoke is easy and My burden is light." – Matthew 11:28-30 (NKJV)
When oxen pulled plows, they would place a yoke to connect the two oxen together. Sometimes, one of the oxen would do most of the heavy lifting, making the yoke lighter on the other. This is the metaphor that Jesus is calling upon here. He's saying that alongside Him, His yoke is light.
He does the heavy lifting for us because we simply can't. Yet He invites us into this relationship so that He can bring our souls rest. Healing is found in this rest and light yoke of Christ.
"Therefore humble yourselves under the mighty hand of God, that He may exalt you in due time, casting all your care upon Him, for He cares for you." – 1 Peter 5:6-7 (NKJV)
Sometimes our suffering is brought upon us by ourselves. There are times that we have exalted ourselves much more than we should, and God needs to step in to bring us back down.
Part of healing must include humility and humbling ourselves in case we are causing ourselves pain through pride. Once we have humbled ourselves, we can cast our cares and worries on the Lord and He will care for us, wrapping His arms of healing around us.
"Now may the God of hope fill you with all joy and peace in believing, that you may abound in hope by the power of the Holy Spirit." – Romans 15:13 (NKJV)
During times of grief, we must find hope and healing in the knowledge of our salvation in Jesus Christ. God is willing to fill us with joy and peace through our belief and faith in Him. Through the Holy Spirit, we can abound in power and in salvation. He is the one who heals us by His mercy and grace for our lives.
Bible Verses About Grief and Comfort
We may experience grief as Christians, but we also have access to the ultimate comforter, God Himself.
"The Lord also will be a refuge for the oppressed, a refuge in times of trouble." – Psalm 9:9 (NKJV)
Notice that this verse says that the Lord will be a refuge. It doesn't say maybe or that He might; it says that He will. We can live with the assurance that even in our times of grief, the Lord is a stronghold in times of trouble no matter what by His mighty hand.
"The Lord is near to those who have a broken heart, and saves such as have a contrite spirit." – Psalm 34:18 (NKJV)
The Lord is near to and heals the brokenhearted. It's as simple as that. He knows His people so well that He draws closer to those who need Him the most. When you're going through grief, call out to the Lord by quoting this verse, knowing that He will be near to you and that He will save you in your need.
"But the salvation of the righteous is from the Lord; He is their strength in the time of trouble." – Psalm 37:39 (NKJV)
If you are in Christ and have received salvation through the cross, you have special access to God. The Lord saves His people and He gives them strength in their time of trouble.
In your grief, remember that you have already received salvation from the Lord. Remind yourself of the hope that you have received and of the comfort that it brings to your soul.
"You, who have shown me great and severe troubles, shall revive me again, and bring me up again from the depths of the earth. You shall increase my greatness, and comfort me on every side." – Psalm 71:20-21 (NKJV)
The Lord doesn't just save His people once and then leaves them to figure out the rest, He revives them every single time. He brings us up from the depths of grief into the mountains of His righteousness and grace. Whenever you find yourself in grief, find hope in His presence and in His comfort.
"Blessed are those who mourn, for they shall be comforted." – Matthew 5:4 (NKJV)
Not only will you be comforted if you are experiencing grief, but you are also blessed. Jesus is simply saying that God blesses those who mourn and grieve, for the Lord will comfort them with His presence. In the presence of the Lord, there are many blessings, and He will comfort you in your worst times of trouble.
Bible Verses About Overcoming Grief
The most amazing thing about grief is that our God overcomes it in all things. Grief is not stronger than God. God overcomes it and by His power, we shall also overcome.
"Cast your burden on the Lord, and He shall sustain you; He shall never permit the righteous to be moved." – Psalm 55:22 (NKJV)
When we experience grief, the key is to give it to God. We have to remember that within our own power, we aren't able to overcome grief. Our flesh isn't strong enough to overcome it. Yet through the power of the Holy Spirit, God not only sustains us, but He keeps us stable and grounded in times of grief, overcoming it on our behalf.
"He will swallow up death forever, and the Lord God will wipe away tears from all faces; the rebuke of His people He will take away from all the earth; for the Lord has spoken." – Isaiah 25:8 (NKJV)
This is one of the most comforting verses when it comes to grief as it reminds us that at the end of days when Christ returns, He will establish His kingdom and abolish grief once and for all.
All of our tears and sadness will be wiped away by His eternal glory and He will take away suffering from His people once and for all. He will overcome all grief for His people.
"I will ransom them from the power of the grave; I will redeem them from death. O Death, I will be your plagues! O Grave, I will be your destruction! Pity is hidden from My eyes." – Hosea 13:14 (NKJV)
God has promised us this, that He will ransom us from the grave and redeem us from death and grief. By God's power, we will overcome grief and destroy it alongside Christ. As we still experience it today, we have to call on these promises of God, knowing that at the appointed time, He will overcome grief on our behalf for His people.
"This is the will of the Father who sent Me, that of all He has given Me I should lose nothing, but should raise it up at the last day. And this is the will of Him who sent Me, that everyone who sees the Son and believes in Him may have everlasting life; and I will raise him up at the last day." – John 6:39-40 (NKJV)
The will of God is for all to believe in Christ and to see eternal life where grief shall be no more. Even when we experience loss and sad times, we must remember that it is God's will that Christ loses nothing that is given into His hand. He will never lose us and will never forsake us in our times of grief. We cannot be overcome by grief when we are in Christ.
"And God will wipe away every tear from their eyes; there shall be no more death, nor sorrow, nor crying. There shall be no more pain, for the former things have passed away." – Revelation 21:4 (NKJV)
At the end of days when God brings into existence the new heaven and the new earth, grief will be no more. It simply won't exist. God will comfort us in His presence and He will wipe away every stain of sin and every mark of grief that we have ever experienced. Look forward to that day; the day that we truly overcome grief by God's power for all eternity.
Conclusion
When dealing with grief, the most important thing that you can do is to lean heavily on the promises of God and on the comfort and healing of His presence. He is always with you, and He comforts those who grieve. Say a prayer for healing today and be blessed in your house of mourning.