20 Top Bible verses about Self Control & 5 Examples from Jesus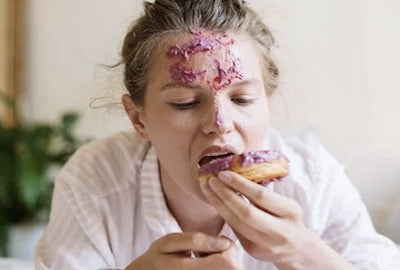 Bible verses about Self Control
Self control is a very important trait for any individual to have. It prevents us from hurting others and helps us to protect ourselves in many ways.
Today we will take a look at some of the lessons that the Bible has to offer about controlling ourselves.
Table of Contents
Bible verses about self control and food
It's important for us to be mindful of what we eat and the proportion we consume when we do. These verses look at how and why to exercise control when dealing with food.
Do not join those who drink too much wine or gorge themselves on meat, ²¹for drunkards and gluttons become poor, and drowsiness clothes them in rags. Proverbs 23:20,21 NIV
Moderation is very important when it comes to eating. That is why this verse encourages us not to over indulge because we see others doing so.
Those who do not choose to comply with the teachings of this text will suffer the consequences. The NASB translation of this verse states, "For the heavy drinker and the glutton will come to poverty".
If you find honey, eat just enough-- too much of it, and you will vomit. Proverbs 25:16 NIV
This verse specifically mentions honey but may be applied to anything we eat. It advises against over indulgence and is a helpful reminder that we should exercise temperance even as we eat.
The NLT version uses the word sick instead of vomit. It states, "Do you like honey? Don't eat too much, or it will make you sick!" Eating too much of certain foods in fact leads to illnesses such as diabetes, hypertension, obesity, and heart disease so it's very important not to overindulge.
Therefore, with minds that are alert and fully sober, set your hope on the grace to be brought to you when Jesus Christ is revealed at his coming. 1 Peter 1:13 NIV
Alcohol affects judgement, alertness, and soberness. To live up to the standards set out in this text it would be wise to avoid the use or abuse of alcohol. As followers of Christ we need to be sober both spiritually and literally.
What we eat and drink affects us in one way or another. That is why we are encouraged to "present your bodies a living sacrifice, holy, acceptable unto God, which is your reasonable service".
Also be reminded of 1 Peter 4:7 which states, 'The end of all things is near. Therefore be alert and of sober mind..."
But the fruit of the Spirit is love, joy, peace, forbearance, kindness, goodness, faithfulness, ²³gentleness and self-control. Against such things there is no law. Galatians 5:22,23 NIV
The same amount of self control that is exercised as it relates to eating physical food should be invested in the intake of spiritual food. The word of God is our spiritual bread and we should spend time within the Holy Pages as we daily feast on God's words.
If we are to truly embody the fruit of the spirit we need to dwell on spiritual matters. To be spiritually minded we need to spend quality time developing and maintaining our relationship with the Lord.
For this very reason, make every effort to add to your faith goodness; and to goodness, knowledge; ⁶and to knowledge, self-control; and to self-control, perseverance; and to perseverance, godliness; ⁷and to godliness, mutual affection; and to mutual affection, love. 2 Peter 1:5-7 NIV
This verse provides encouragement for individuals who don't believe they have the discipline to adhere to a diet or resist eating certain foods. It first suggests that faith is needed. To this faith self-control, perseverance, godliness, and other christian qualities are to be added.
The final trait that should be added is love. With faith, self-control, godliness and self love nothing is impossible. Be patient, keep believing in yourself and in the end you will have full control over your eating habits.
Bible verses about self control and anger
There are many texts that look at self control and anger. Below are some verses that provide instructions on how to control ourselves and our anger.
A gentle answer turns away wrath, but a harsh word stirs up anger. Proverbs 15:1 NIV
This scripture provides sound instructions that relate to self control, anger, and gentleness. When provoked it is best to respond with gentleness as it will help to diffuse a tense situation.
Responding in anger will only help to fuel rage, cause you to lose self control, and make others even more angry.
No temptation has overtaken you except what is common to mankind. And God is faithful; he will not let you be tempted beyond what you can bear. But when you are tempted, he will also provide a way out so that you can endure it. 1 Corinthians 10:13 NIV
This passage is a timely reminder that even amidst the most heated discussion, disagreement, or rivalry your reaction and anger may be controlled. You may be tempted to become angry but the Lord will only lead you to temptation that you are able to withstand while also providing a way for you to overcome.
Dealing with self control and anger may seem impossible at first. However if you are persistent and keep working you will soon realize that 'with God all things are possible'.
Better a patient person than a warrior, one with self-control than one who takes a city. Proverbs 16:32 NIV
The art of self control has to do with not being impulse or acting hastily. This is where patience comes in. Being patient in tense situations helps you to weigh your actions while also considering the possible outcomes.
Controlling emotions such as rage, hurt, and bitterness will prevent you from hurting others and destroying relationships. 'One with self control' speaks about a person who will consider peace, be merciful, and be willing to compromise.
Fools give full vent to their rage, but the wise bring calm in the end. Proverbs 29:11 NIV
This text is a helpful encouragement for us to make wise decisions and be self disciplined. Instead of choosing a foolish path, put away anger and encourage calmness.
Positive words, a pleasant attitude, and gentleness are great ways to bring calmness to a situation. This is why Proverbs 16:24 states that, "gracious words are a honeycomb, sweet to the soul and healing to the bones.
My dear brothers and sisters, take note of this: Everyone should be quick to listen, slow to speak and slow to become angry, ²⁰because human anger does not produce the righteousness that God desires. James 1:19,20 NIV
This verse highlights a very important benefit of controlling ourselves and anger. In mastering control over self and anger we come closer to producing the righteousness that the Lord desires of us.
Verse twenty one of this chapter provides the key to be saved in God's kingdom. It suggests we, "get rid of all moral filth and the evil that is so prevalent and humbly accept the word planted in you, which can save you".
Bible verses about self control and gentleness
There are many scripture passages that show how gentleness goes hand in hand with self control. These verses provide instructions on how to live gentle, loving, and peaceful lives.
Rather, he must be hospitable, one who loves what is good, who is self-controlled, upright, holy and disciplined. Titus 1:8 NIV
This description provided in Titus is an excerpt of the list of qualities an elder should have. An overseer in the household of God is expected to be disciplined and self controlled.
This text is not solely for elders but also describes how each member of the body of Christ ought to conduct him or herself. In living gentle lives we should all strive to be upright, holy, hospitable, and self controlled.
Set a guard over my mouth, LORD; keep watch over the door of my lips. Psalm 141:3 NIV
Tense situations, heated discussions, and disagreements may lead us to react in ways that go against the spirit of gentleness. This is why like David we need to continually ask the Lord to guard our mouth and help us to monitor the words we utter.
This verse is a gentle reminder that it's better not to say anything than to lose control and say things we may end up regretting.
Be completely humble and gentle; be patient, bearing with one another in love. Ephesians 4:2 NIV
Our relationships with each other should be full of love. When we love each other we are more likely to be gentle. When others love us it is easier for us to choose a path of humility even in the most challenging circumstances.
If we love others and they love us we create an environment where gentleness and self control will thrive. Let us therefore make every effort to live in love and unity.
Those who guard their mouths and their tongues keep themselves from calamity. Proverbs 21:23 NIV
Speaking hurtful words may provoke others to the point where they want to retaliate. Hurtful words promote hostility and may lead to very bad circumstances.
On the other hand those who guard their mouths and their tongues radiates gentleness. It is way better to live a gentle life than to live in fear, animosity, and hostility.
Humble yourselves, therefore, under God's mighty hand, that he may lift you up in due time. ⁷Cast all your anxiety on him because he cares for you. 1 Peter 5:6,7 NIV
Humility is a needed character trait that is perfect for gaining self discipline and being gentle. Jesus' birth, life, and death embodied humility and gentleness. He was disciplined and in control of His thoughts, deeds, and the circumstances He found Himself in.
If we are to humble ourselves and submit our lives to God we will be better able to follow the example set by Jesus while He was here on earth.
Bible verses about to help those who lack self control
The Bible is full of promises, encouragement, and advice to deal with self control. Let's have a look at some of these very helpful verses.
Everyone who competes in the games goes into strict training. They do it to get a crown that will not last, but we do it to get a crown that will last forever. 1 Corinthians 9:25 NIV
This text uses an athlete to bring across the point of self control. Athletes practice long and hard in order to be perfect. They persevere and their aim is to develop their skills in order to win a medal.
If we are persistent, with much practice we too will develop the skills needed to control ourselves. In the end the Lord will reward us with a crown of glory for our perseverance, patience, and discipline.
For the grace of God has appeared that offers salvation to all people. ¹²It teaches us to say 'No' to ungodliness and worldly passions, and to live self-controlled, upright and godly lives in this present age, Titus 2:11,12 NIV
This verse provides a helpful lesson. In resisting ungodliness and worldly pleasures we are able to gain control of our actions and lead godly lives. Keep believing in and depending on the grace of God to fortify and sustain you as you become more and more disciplined each day.
Like a city whose walls are broken through is a person who lacks self-control. Proverbs 25:28 NIV
A city without walls is vulnerable to attacks from the enemy. This is because there is no protective barrier to prevent opposing armies and soldiers from launching an attack or breaching the city walls.
It's the same way that a lack of self-control makes us vulnerable. We are left without the barrier that will protect us from anger, rage, and hurtful insults. In a spiritual sense we are unprotected from the attacks that the Devil hurls at us.
In 1 Peter 5:8 we are reminded why we need to put up our spiritual defenses. "Be alert and of sober mind. Your enemy the devil prowls around like a roaring lion looking for someone to devour".
For the Spirit God gave us does not make us timid, but gives us power, love and self-discipline. 2 Timothy 1:7 NIV
In these words we find hope to be confident in ourselves. The Lord has endowed us with the power, love, and discipline we need to face the challenges that life throws at us. We have the power to control our emotions, our desires, and our actions thanks to the Spirit of God.
Those who are victorious will inherit all this, and I will be their God and they will be my children. Revelation 21:7 NIV
This is a beautiful promise extended to everyone who is willing to be self disciplined. We only need to be patient and persevere to the end. One blessed day the Lord will reward all those who are victorious in controlling their thoughts and actions.
Remain faithful and you will hear the words in the KJV of Matthew 25:34. "Then shall the King say unto them on his right hand, Come, ye blessed of my Father, inherit the kingdom prepared for you from the foundation of the world."
How did Jesus demonstrate self control?
Throughout His life and ministry Jesus exemplified the true meaning of discipline and self-control. Here are some instances where Jesus not only took control of His actions and emotions but also of the situation He was in.
Jesus' temptation (Matthew 4:1-11)
The same Jesus that spoke 'peace be still' to the wind, had more than enough power to end Satan then and there when he tempted Him. He chose instead to quote passages from the Holy Scriptures stating why He would not do the Devil's biddings.
His first recorded miracle was turning water into wine so there is no doubt He was able to command stones to turn into bread. He not only exercised self-control but proved He is in control of the entire world.
Jesus was expected to pass judgement (John 8:3-11)
Jesus could have hastily condemned the woman for breaking one of the laws handed down from the time of Moses.
He could have disgraced those who were accusing the woman by naming their sins and publicly humiliating them but He was way too disciplined for hasty and hurtful actions.
He chose compassion, mercy, and justice instead of quickly casting judgement.
Jesus paying temple tribute (Matthew 17:24-27)
The fact that Peter was asked about Jesus paying tribute was an implied rejection of who Jesus was and the role He played.
Jesus could have insisted that no money should be collected from Him for tribute but for the sake of peace and not offending the belief of the collectors Jesus told Peter to get money from a fish.
He didn't get into rage or argue but worked a miracle. Getting the exact money from a fish proved that the rejection and insult was unwarranted while displaying His divinity in the most gentle manner.
Having compassion for His sleepy disciples (Matthew 26:36-46)
This passage shows humility, submission to God's will, and self control. The disciples were unable to stay awake yet Jesus had compassion on them. Three times He asked them to watch while He prayed and on all three occasions they fell asleep.

Jesus was experiencing an intensely difficult moment. He was asked by the Father to lay down His life. He was just moments away from being betrayed by one of His own disciples. In a few short hours He would be tried, wrongfully accused, mocked, crucified, and separated from the Father because of death.
It was a lot to process and endure but He exercised self control by first going to the Father to unburden Himself then submitting to His will.

Jesus didn't resist arrest (Luke 22: 47-52)
Jesus could have summoned angels from heaven to rush to His rescue but He didn't. Throughout His ministry He embraced His humanity choosing to suffer, face hunger, experience grief, being questioned by nay-sayers and opposers, and then face the most humiliating death.
He was not powerless to help Himself yet He showed great restraint. The same power He used to walk on water, heal the sick, and raise the dead was available to Him in His times of need yet He chose a path of humility. All the miracles He performed were to glorify God not bring attention to Himself or make His life on earth easier.
Final thought on self control
Self-control is very important because it allows us to be disciplined in how we think, speak, and act. Let us consider the advice in Philippians 4:8 and follow the examples of Jesus as we guide our thoughts and control our actions.