8 Bible Verses About God's Plan for Us | His Will Be Done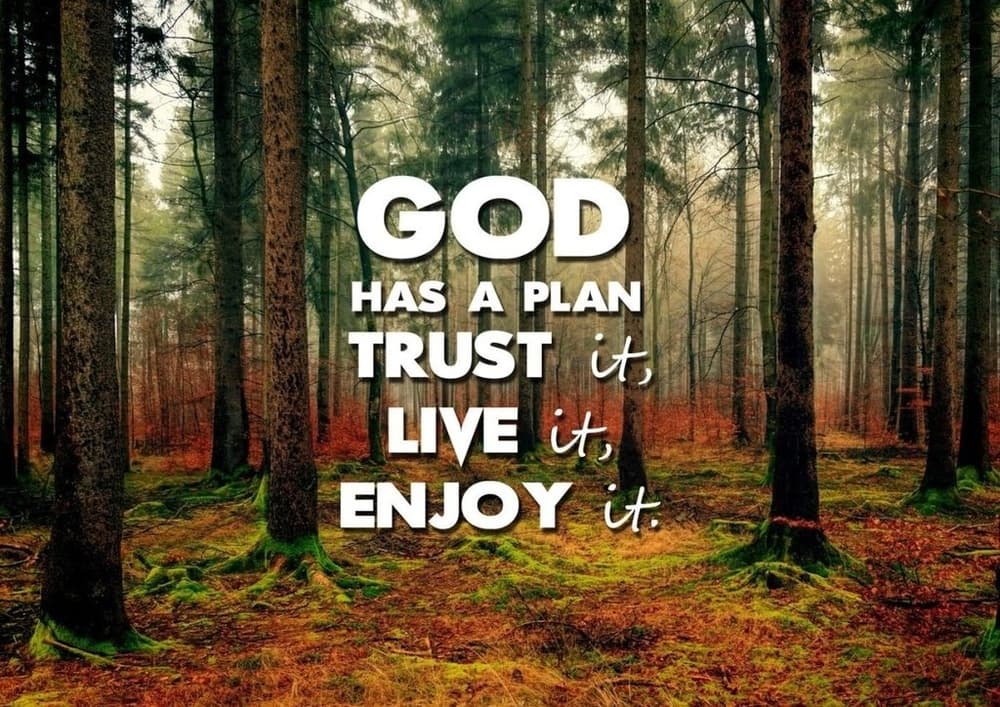 Bible Verses about God's Plan for Us
Have you ever found yourself wondering if there is a divine plan for your life? It's a question many Christians ask themselves from time to time. Why are we here? What is our purpose? And does the Bible have any of these answers?
The good news is that there are many Bible verses about God's plan for His people. And Christians can be sure that those who were created in Christ Jesus are on Earth for a reason.
God's Will Verses from the Bible
With just a little bit of Bible study, we can find many scriptures and verses that tell us what God says about our lives and our purpose. And knowing that God has a plan, as well as keeping the faith and trusting him always, can help us live with purpose and intention.  
Let's take a look at what the Lord has said about His plan for us and perhaps this will help give you a future purpose. 
Table of Contents
1. "For I know the plans I have for you," declares the LORD, "plans to prosper you and not to harm you, plans to give you hope and a future." - Jeremiah 29:11
Perhaps the best-known and most comforting Bible verse, Jeremiah 29:11 is known to bring peace to many people who feel unsure about the future. It's not surprising, since the verse very clearly tells us God knows exactly what path he wants us to take.
2. And we know that for those who love God all things work together for good, for those who are called according to his purpose. - Romans 8:28
In this chapter of Bible verses, we learn that God's plan includes all of His people, and those working in Christ. We know that all things will work out 'according to his purpose' and that we don't need to know the plans He has, but simply need to have faith and trust.  
3. The plans of the LORD stand firm forever, the purposes of His heart through all generations. - Psalm 33:11
God's plan started when he created Heaven and continued on to the birth and death of Jesus Christ. And in the Psalms 33 Bible verses, we know that His plans for us all will not change or waiver.
4. I will instruct you and teach you in the way you should go; I will counsel you with my eye upon you. - Psalm 32:8 
This verse comes from a moment when David gains a special closeness with the Lord. This brings a promise from God, that he will be watched over, and God would counsel David to ensure that he stays on the right path. 
Just as He will for all those who love God. And it's only thanks to God's plan for our lives that He is able to guide us and counsel us. 
5. Trust in the LORD with all your heart and lean not on your own understanding; in all your ways submit to him, and he will make your paths straight. - Proverbs 3:5-6
It's easy to say that God's plan and purpose are good and true. But for this plan to work, we must fully believe in it and trust Him to guide us. This Bible verse from Proverbs reminds us to put our trust in God and let Him lead us on the right path.
6. Commit your work to the Lord, and your plans will be established. The Lord has made everything for its purpose, even the wicked for the day of trouble. - Proverbs 16:3-4
God's plan is about more than just our own lives, it's about humanity itself. And this Bible verse tells us that there is a plan for even the 'evil' of the world. Everything on earth has been created with a purpose, and there is nothing that God does not have in His plan. 
7. But, as it is written, "What no eye has seen, nor ear heard, nor the heart of man imagined, what God has prepared for those who love him." – 1 Corinthians 2:9 
As people, we often try to predict the future and know what is going to happen. This helps us feel more in control of our lives. But God's plan is not foreseeable to our eyes, and this bible verse explains that what He has planned for His people is unlike anything we could imagine.
8. The heart of man plans his way, but the Lord establishes his steps. – Proverbs 16:9 
This verse from the bible is a good reminder that while every person is free to make their own plans, and prepare in their mind, God is the one who will guide those plans.
We should be thinking about the future and things like careers and families, as long as we have faith that God will simply adjust things to go as He has planned from the beginning. 
Find Your Favorite Scripture About God's Plan
There's no doubt about it - God has a plan for you. These Bible verses about God's will can help remind you of that when things seem to be going wrong. 
Even the most steadfast in faith can at times feel like their lives are out of control. But we can see now that the Bible tells us that God is always in control. He knows our thoughts and actions, and as long as we live with the Spirit in us, he is guiding our steps. 
So trust that God has plans for you and that your life has been written before you were even born. When you find this kind of peace, it is easier to enjoy life and worry a lot less. 
Which of these Bible verses most speaks to you and the way you live? Do you trust in God's plan for you?